Do Leakproof Underwear Really Work?
What are leakproof underwear? How are they made? Do they really work?
Leaking is a very common occurrence among women, usually during pregnancy, after childbirth, or as the pelvic muscles weaken with age.  I am one of these women and that is precisely why I created UltiUndies with my partner Saul. 
One of my favorite pastimes is going to the movies.  (Sadly, I haven't been to a movie theatre since Covid started.)  It is unbelievable how on many occasions the film was almost over and I had the urge to pee.  But unless I was desperate, I refused to get up and miss part of the film.  So, I would sit through the entire two plus hours practically peeing in my pants.  Finally, when the movie ended, I rushed to the bathroom and as I was unzipping my jeans I would start leaking.
OMG, how embarrassing is that!!!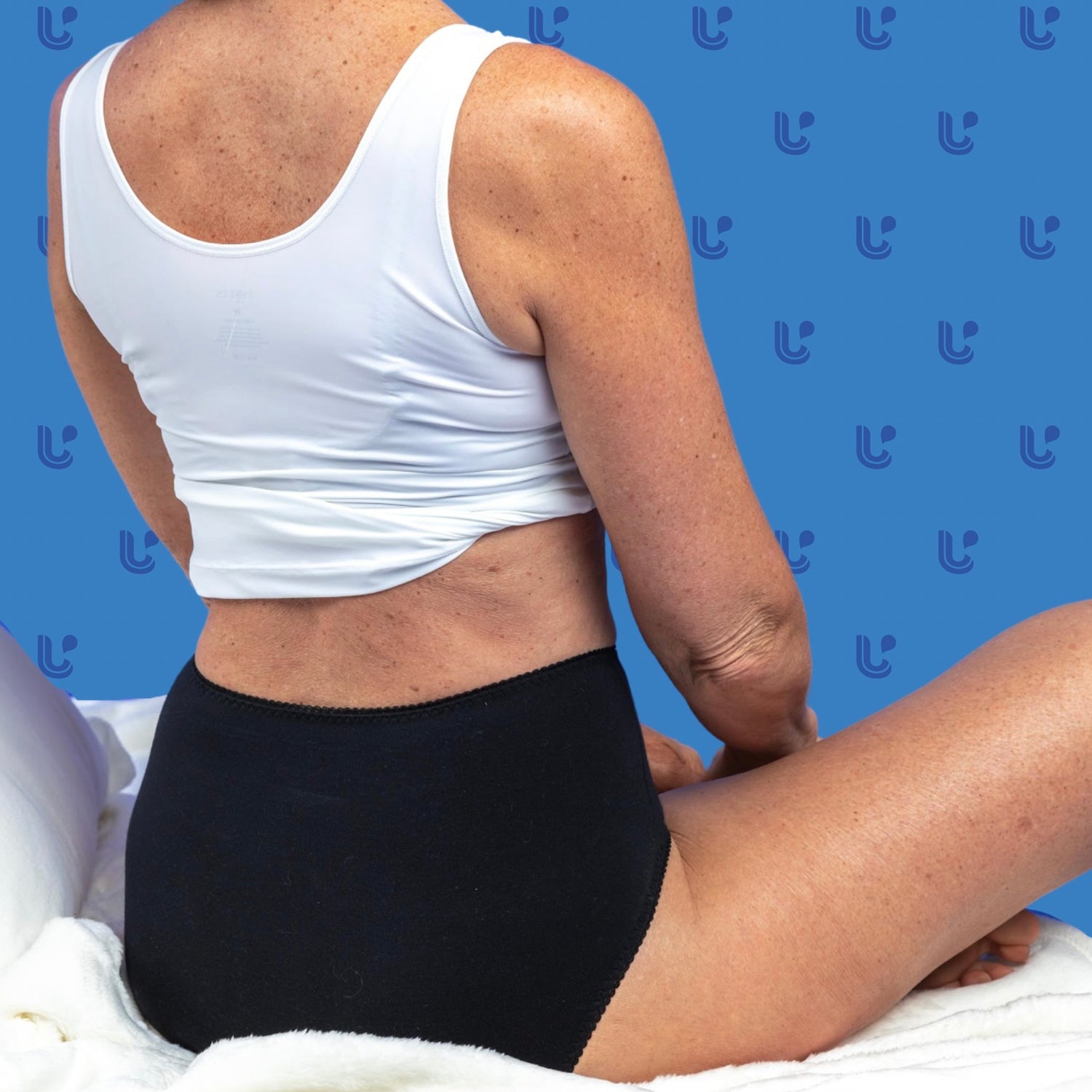 My immediate thought was to dry my undies and my jeans with toilet paper and then place extra toilet paper between my undies and my jeans.  It somewhat worked but I was always conscious of how much I leaked, how wet is my jeans, etc.  And, in addition to all this, my undies felt and stayed wet for the rest of the evening.  I totally hated when that happened.  
So … the thought of leakproof underwear, UltiUndies, became a project and the best solution to my leaking ever!!! 
Let me become technical now and give you the answers to the above questions.
– Dianny
Shop Now
Our Fabrics
Our Modal is softer than cotton. Its fibers are produced by dissolving pulp from the beechwood tree, a sustainable-produced wood. Modal is a very soft, cool and breathable fabric that has higher resistance to shrinking and moisture wicking.
Our middle-layer fabric is made of organic cotton infused with silver ions to inhibit bacterial growth, control bad odors and create long lasting freshness without toxic chemicals. This fabric is free of PFAS & PFOA chemicals, known to be harmful to people and the environment.
Our wicking fabric contains anti-microbial and anti-fungal properties. It is produced in an eco-friendly factory that proudly supports single women, heads of households.
Peeling Back Our Built-in Multi-layer Protection
After testing many sample fabrics and styles, and what seemed like a billion and one peeing tests, our three layers did the trick!
Wicking fabric
The top fabric of our crotch is the wicking fabric. The main purpose of this layer is to wick or absorb the wetness from your leak (pee) onto the second layer.  It's very important that this layer be anti-microbial, anti-fungal, and anti-odor.  Remember that this layer touches your skin and has to protect you from any bacteria, as well as, the smell of your pee.  Our wicking fabric was developed just for UltiUndies and we're happy to admit that it serves its purpose 100%.
It keeps you dry, safe from infections, and odorless.  
The next fabric has to ensure that your pee does not go beyond this layer and stain your clothing.  Ours has a plastic coating that prevents any seeping through your undies.  Instant protection and no embarrassment!!!  This layer is magical, you leak and your wetness remains your secret. And it is Organic cotton, no chemicals for your protection.
Comfortable leakproof underwear
Finally, wearing comfortable panties is a real pleasure.  The elastic around the waist, hip, or legs should not be too tight.  You want a smooth look under your clothes, not a "muffin" top or bulging thighs.  The feel of the fabric should be soft, cool, and light.  We found that fabric in our "Modal" fabric and fell in love with it!  We now use it in all our undies. Modal is 98% sustainable, using recycled water with no waste or harm to our planet. 
I can't be happier and more comfortable in my own undies now.  I can leak, tinkle, pee a few drops, etc., and the drip stays with me.  Nobody else knows!!!
How about you?  When do you tinkle and are you protected?  Let me know.
Shop Now
Fabrics
Main Body:

96% Modal 
4% Spandex 
Luxurious feel
Sustainable
Resistance to shrinking

Lace: 

88% Polyamide
12% Elastane

Wicking:

100% Polyester 
Moisture wicking
Anti-microbial and anti-fungal

Leak Protection: 

85% Organic cotton infused with silver ions
15% Polyurethane
Anti-microbial and anti-odor
Fabrics are free of PFAS and PFOA chemicals which are known to be harmful to people and our environment.
UltiUndies Care
Our undies are made with the finest fabrics and trimmings.
Wash your new UltiUndies before wearing.
For ULTIMATE care we recommend washing by hand and air drying. If it is an unlikely reality, machine washing and drying is perfectly fine.
Machine wash on a delicate cycle in cold water with like colors.
Tumble dry on low heat.
Please … do not use bleach or fabric softeners and do not iron.